Once we got Emerson's big girl bed then came the fun of picking out bedding. I was motivated to make her room fun, pretty, and bright. I had fallen in love with this bedding from Land of The Nod.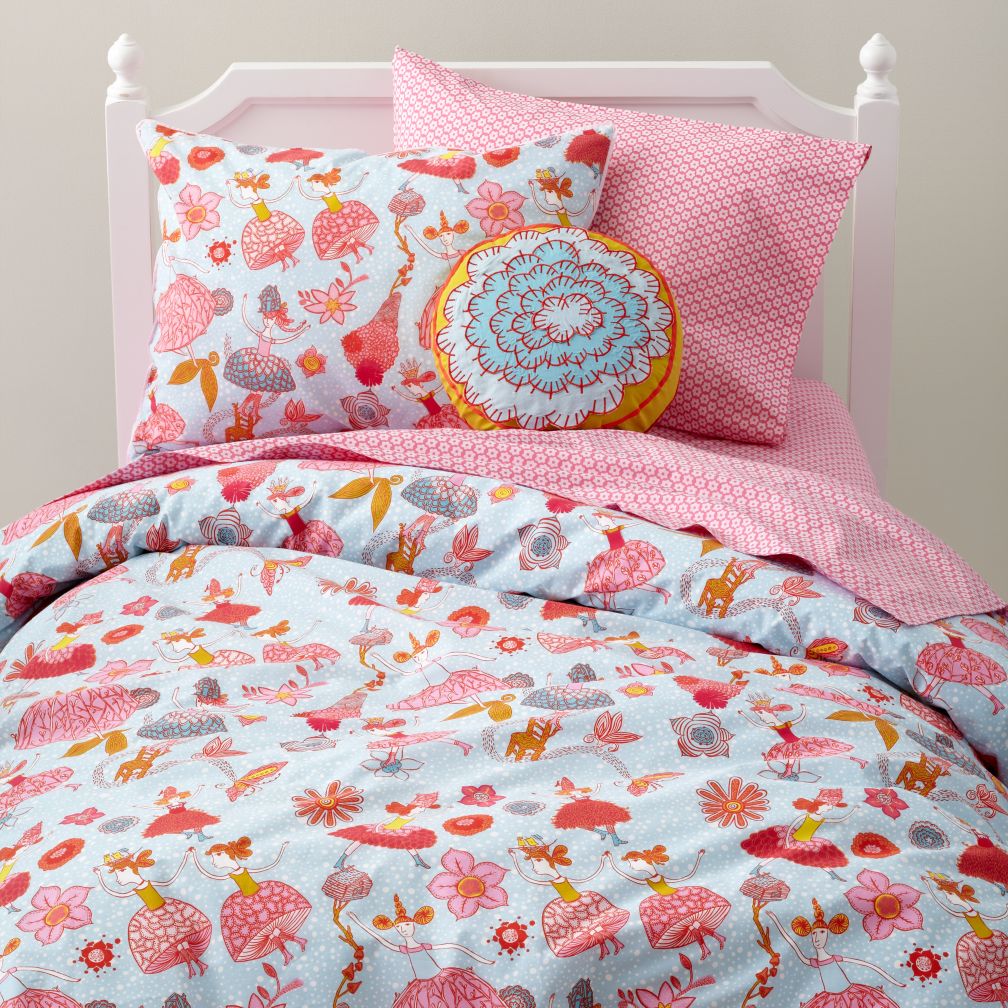 It's even prettier in person. I ordered a sample, (which is free by the way) only to confirm what I had thought. The fabric was gorgeous, and brighter than it appears here. A combo of pink, orange, red, and turquoise. LOVE. But, with a $79 price tag I hesitated. I explored the idea of purhaps making my own duvet. After all I had sewn my way through college, it would be simple, right? After discovering I could not buy that specific fabric since it was designed for Land of the Nod I began to search. I knew I really wanted pink with red. It was so fun, vibrant, and not the typical little girl color scheme. Luckily Emerson and I have similar taste as far as color. While searching on etsy I came across fabric by Dena Fishbein. I loved it. After looking up all of her fabric I discovered I recognized several of her designs.
I was drawn to this moroccan pattern. Since the tutorial had a combo of three panels I could use a contrasting pattern. I was having trouble picking something out. I kept going back to a turquoise color. But, nothing felt right. Emerson picked out this stripe. It worked. It was a small enough scale compared the large pattern to balance it out, yet was vibrant and continued the rainbow of colors.
So after I got the fabric, you think it would be a couple days then it would be ready to go. Wrong. It took me two months from arrival to completion. Thankfully it is summer and Emerson doesn't mind sleeping with just a sheet. Although it was "just straight lines," the duvet took a lot of time from cutting to sewing, to enclosing it. Plus, I did french seams for fun. I had a slight hiccup in the end so it has a messed up spot in the corner where the fabric gathered. But, I think the overall look is adorable. Plus I plan to draw the turquoise and red out to add a boy side of the room since they share.
Now, she must use it for the next 5 years. :)
Tutorial by Design Sponge
here